new
Mobile Apps
Site Creator
Weekly Release Spotlight 8/24/23
Want to stay up to date on all the latest features and improvements we're making to help your business grow? Check out our Weekly Release Spotlight & Release Notes every Thursday to help you get a quick look at important features you don't want to miss! Explore this week's features below.
What Changed:
Mobile 3.0 allows you to create a more custom experience on your mobile app, while saving you and your shoppers time! You can add Shop All for better navigation and automatically categorized product pages, add existing website content or create new app-specific content, and add your website homepage! Mobile 3.0 is currently available for iOS, and will be available for Android very soon.
Where to Learn More:
You can learn more about Mobile 3.0
here
.
Why We Love It
: Now you can customize your mobile app's content to look and function in a way that suits your business and your shoppers. That means more time spent buying and less time spent searching!
Feature 2: Duplicate a Page & Save as a Template
What Changed:
Wish there was a faster way to create website pages you love? Now there is! Once you've created a great website page, you can easily duplicate that page or save it as a template to swap out the products or content- publishing in just minutes!
Why We Love it:
This saves you time when building new pages and helps you create a more consistent experience across your site!
What Changed:
Want to create product groups on your website and app beyond just Product Categories or collections? You can with Product Types! Product Types allow you to create custom filters for your products to improve navigation for your shoppers. Now, you can create identifiers for your products- like maxi, midi, mini for clothing, or by color for jewelry or crafts. You can even bulk assign Product Types to your existing products.
Where to Learn More:
You can learn more about assigning Product Types
here
.
Why We Love It:
Product Types help your shoppers find the products they want even faster, while keeping your products organized in a way that's customized by you!
Ad Conversion Settings
. We've moved existing ad conversion tracking capabilities to a dedicated area in Site Creator to help you better manage your advertising conversion tracking. You can find these by navigating to
Site Creator > Settings > Marketing > Ad Conversion Channels
. From there, they are grouped by Meta, Google, TikTok, Pinterest, and Other.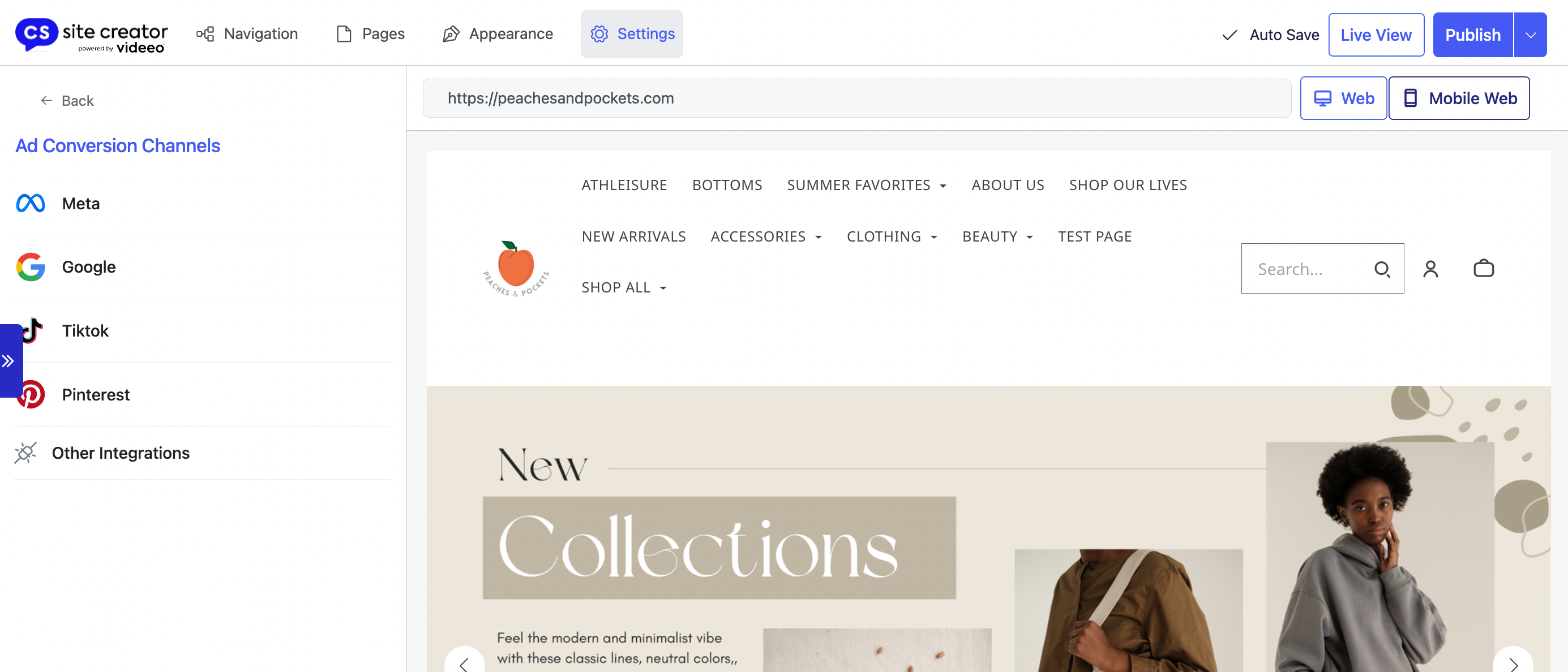 USPS Ground Advantage Prioritization.
We've updated our shipping rules so that USPS's new Ground Advantage service level will be available for more shipments. It will be the preferred option whenever it is cheaper than Priority Mail and the shipment qualifies for Ground Advantage. USPS Ground Advantage offers better rates for many shipments compared to Priority Mail, helping you save on shipping costs.